Administration and Culture Committee
Standing Committees Each standing committee deliberates agendas and petitions under their jurisdiction.
Chairs of standing committees are elected at the general meeting in the same process as the election of the council chair. Committee members are recommended by the council chair and appointed by the decision of the general meeting. All council members except the council chair are members of standing committees and their term is 2 years.
Administration and Culture Committee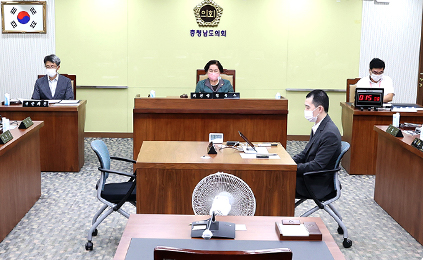 The Administration and Culture Committee carries out administrative work and develops cultural policies to improve the quality of life for the citizens. It oversees the Autonomous Administration Bureau, Community Support Bureau, Culture, Sports and Tourism Bureau, Public Officials Training Institute, Audit Committee and Chungnam Library.
Matters Concerned
Matters under the responsibility of the Autonomous Administration Bureau, Community Support Bureau, Culture, Sports and Tourism Bureau, Public Officials Training Institute, Audit Committee and Chungnam Library
Number of Members